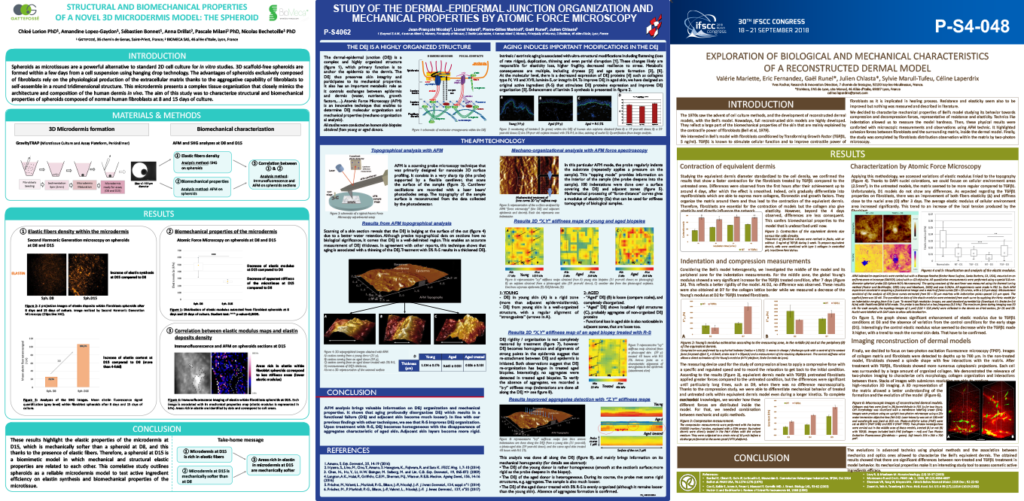 Nos articles
Stratum Corneum Biomechanics
L'OREAL RESEARCH
Potter A, Luengo G, Santoprete R, Querleux B
As the outermost layer of the skin, the stratum corneum participates in the functional properties of the skin (1). For some functions, i.e. photoprotection (2, 3) or barrier protection (4), it is well accepted that the stratum corneum plays the primordial role. Concerning the mechanical properties of the skin, the influence of the mechanical properties of the stratum corneum is also recognized (5,6), but its exact level of importance is still in debates as it doesn't exist clear results in the literature.
The stratum corneum could be considered as a composite material mainly made of corneocytes, intercellular lipids, corneodesmosomes, and other intercellular proteoglycannes. Such a complex material should be characterized in a multi-scale approach in order to relate mechanical properties of the main constituents to macroscopic properties of the skin such as softness, firmness, elasticity, and tonicity.
This chapter is divided in three parts as it explores stratum corneum biomechanics at three different scales: the cellular level with descriptions of the corneocyte mechanical properties, the tissue level through mechanical properties obtained on in vitro stratum corneum layer, and finally at the organ level through the description of the contribution of the outermost layer, as a part of a multi-layer organ. Mechanical properties at the different scales will be described on normal stratum corneum, and under variable hydration states, in order to improve our global understanding on water interactions with.
Finally, for the three parts, we'll present a short state-of-the-art review, as well as new results obtained recently in our labs.
Application de la Microscopie à Force Atomique (AFM) à la biologie cutanée
Drillat A, Runel G, Chlasta J, Milani P
La peau constitue l'organe le plus étendu du corps humain. Elle joue un rôle de barrière, mais sert également à communiquer avec l'environnement extérieur. Elle est caractérisée par ses capacités d'élasticité et ses propriétés mécaniques qui lui sont propres et lui confèrent ses fonctions. La peau humaine est composée de plusieurs couches, chacune avec une structure et une fonction unique. Comprendre le comportement mécanique de ces différentes couches est important pour la recherche clinique et cosmétique, à titre d'exemple, pour le développement de produits de soins et la compréhension des affections cutanées.
Corneocytes nano-mechanical properties changes indicate alteration of the skin barrier