Once upon a time, there was science and entrepreneurship…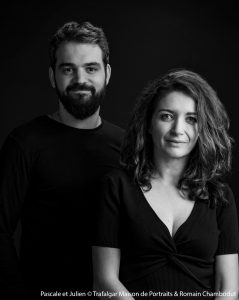 When some people reduce entrepreneurship as a source of profit, others use it to return to sources. If Pascale Milani admits that ministry of public research had plunged her into dormancy, Julien Chlasta refused very early to put on this robe that the thesis defense was for him. "You must feel this vocation. I knew from the beginning that I would set up or take over my own organization." Two years of internship in biology made him cross the door of the laboratory of Biology and Cell's Modeling. When destiny managed to plan his meeting with Pascale, it was obvious that this combination of factors would be become a great project.
When BioMeca won the Young Entrepreneur of the Year award in 2016, the grant was immediately injected into company's capital. Initial trust placed by L'Oréal led the winners to meet the most stringent requirements. Tenors of the same business then took their turn to seize the niche opportunity. Boiron, Exsymol or Clarins now are relying on BioMeca to highlight their products effects and empower their cosmetic objectivations.
If for many, atomic force is a massive dissuasion, Pascale and Julien have made it a decisive asset of persuasion by channeling it into microscopes. "No other technology could replace what we are doing with BioMeca. Atomic force microscopy makes possible enhancing effectiveness of cosmetic products." To carry out measurements to legitimize an anti-ageing balm, to test creams creams with sensitivity skin, to compare results and reach objectives to complete the R&D process, etc. BioMeca is this final step before the stamps "laboratory tested".
The meeting point of a multitude of factors
Based in Lyon, the place to be in dermocosmetology and Life Sciences, Julien and Pascale collect many prestigious references. There is no doubt that they ensure the peace of mind of banks with a solution where nothing is missing. "We design tailor-made methodologies for each specific case. Our aim is also to explain, interpret and translate results into the client's vocabulary in order our universes could cross and understand each others." A physical data can be converted into firmness or elasticity, a Young's modulus can justify an anti-wrinkle action, etc. BioMeca is the bridge between disciplines that have only spoken in hushed tones until now.
As a member of the Réseau Entreprendre Rhône (Rhône Entrepreneurship Network) and a repository of the values promoted there, and also a member of Lyonbiopôle to establish competitiveness within framework of regionality, BioMeca has been able to detect a brilliant place. "This city brings together openness to Europe, an industrial basin for the cosmetics industry and a pool of scientific talent without compromising the quality of life. It has everything !"
In addition to the perpetual hunt for new protocols, the company is making sure that it turns towards the medical field. As many projects as successes transcribed in hired employees. "The most motivating thing for us is that this economic success is creating jobs and supporting families!" If the team is destined to number in dozens, the days when stress governed the slightest mouse click in the laboratory are gone a long time ago.
Wherever they put their luggage, they have learned that it's against the wall that the impulse matters. Pascale Milani and Julien Chlasta no longer need to go through the window. Together, they have succeeded in digging a boulevard, defining their own requirements.